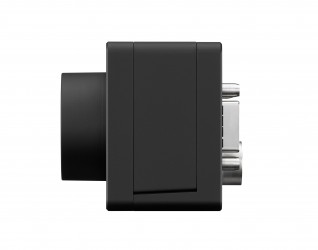 XCL-SG510C
2/3-type GSCMOS, 5.1M, 154 fps, colour
The XCL-SG510 (black & white) and XCL-SG510C (colour) are the latest industrial cameras from Sony to incorporate Sony Pregius GSCMOS sensor technology.
The XCL-SG510C combines the best of Sony technology in a convenient form factor which is optimised for use within both the Industrial Vision and non-manufacturing vision markets.
Drawing upon Sony's market leading Global Shutter CMOS sensor technology the XCL-SG510C combines the highly innovative, high speed IMX250 5.1MP GSCMOS sensor with Sony's rich heritage of complete camera technology and a Camera Link interface, bringing the best combination of performance and quality from a brand you can trust.
The XCL-SG510C incorporates the very latest Pregius high sensitivity technology for maximum visibility in challenging lighting environments.
Features
KEY FEATURES
Unique Image Processing
Utilising both Sony's GSCMOS Pregius technology and image processing know-how, the XCL-SG510C camera comes equipped with unique image processing capabilities, such as:
Wide Dynamic Range
Frame Accumulation
Area Exposure
Area Gain
Multi ROI
When combined with the use of a high speed Camera Link interface, the XCG-SG510C is perfectly suited for use within ITS, factory automation, food and beverage inspection and pharmaceutical applications.
High Frame Rate Image Transfer
XCL-SG510C camera feature a high readout rate of uncompressed images for smooth and clear results. The XCL-SG510C achieve up to 154 (8-bit x 10 tap) frames per second (fps). Other frame rates are selectable.
This enables the camera to capture fast-moving objects without sacrificing image quality.
Shading Correction
With embedded shading correction and Pregius sensor technology the XCL-SG510C camera minimises the uneven image intensity often caused by lighting and/or the lens. The internal hardware processing reduces the need for external image correction that is normally
performed via a frame grabber board and PC. This handy function reduces the processing load of the PC, and simplifies the processing task.
Defect Correction
XCL-SG510C camera can automatically minimise defective pixels (e.g.., white and black dots) within the entire imaging area directly inside the camera. This feature helps simplify image processing.
Temperature Readout
The camera comes with an internal temperature sensor. The host device can receive temperature information by issuing a command. This eliminates the need for a separate sensor, and simplifies system configuration.
Memory Channel (User Set)
In addition to factory default settings, up to 16 camera parameters – including brightness, gamma, shutter, gain, and trigger mode – can be preset to suit each
particular scene.
Bulk Trigger Mode & Sequential Trigger Mode
The XCL-SG510C camera features advanced Bulk Trigger and Sequential Trigger modes in addition to a free run trigger mode. Each camera supports 16
memory channels that can store up to 16 different camera setups (e.g.., exposure, and gain).
Bulk Trigger mode allows these cameras to capture up to 16 images in rapid succession using a single software or hardware trigger.
Sequential Trigger mode allows each camera to capture a single image using successive setups stored in the memory channels with each software or hardware trigger.
Look-up Table (LUT)
The XCL-SG510C camera supports a look-up table which transforms the input luminance signal into the required digital output. It supports factory presets such as Binarization and user defined
LUT.
Industrial Design
The XCG-SG510C adopts the rich heritage in camera design from Sony. It is designed to resist high shock and vibration whilst maintaining Sony's reputation for high durability and performance.
Downloads
Sony XCL Series Downloads
You may need to be logged in to have access to some documents.