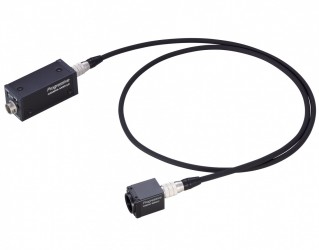 XC-56BB
Designed to comply with the pin-out of Sony's discontinued XC-55BB camera, Sony's new two piece, black and white progressive scan video camera - the XC-56BB - incorporates a 1/3-type progressive scan CCD that produces detailed, VGA resolution images at a high frame rate (30 fps).
Features
• 1/3 inch Progressive Scan CCD with square pixels
• Non-TV format
• Square lattice/Full pixel read-out
• Effective Picture Elements - 659 (H) x 494 (V)
• NF Lens Mount
• High Rate Scan /Binning Function - 30 frames per sec./60 frames per sec. Binning
• Sync System - Internal/External (auto)
• External Sync System - HD/VD (2 to 5 Vp-p)
• Gain - Manual/Fixed switchable
• Gamma - OFF (y=1)
• High Shock and Vibration Resistance
• Miniature Size
• External Trigger Shutter: 1/4 to 1/100,000 sec
• Cable length: 2 m
• Lead-free soldering
• Same Pin Assignment as XC-55BB camera
Accessories
Optional Accessories:
Compact camera adaptor
DC-700/700CE
12-pin Camera Cable
CCXC-12P02N (2 m)
CCXC-12P10N (10 m)
CCXC-12P05N (5 m)
CCXC-12P25N (25 m)
C-mount adaptor
LO-999CMT
C-mount lens
VCL-12YM
VCL-50YM
NF-mount lens
VCL-03S12XM
VCL-12S12XM
VCL-06S12XM
VCL-12SXM
Tripod adaptor
VCT-333I (for CHU)
VCT-55I (for CCU)
Downloads
Sony XC Series Downloads
You may need to be logged in to have access to some documents.