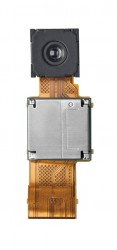 MCB 1182
The compact, high definition, 8.3 megapixel Sony MCB is the smallest camera module capable of delivering 720p HD quality video at a high frame rate (30 fps at 720p). The 1/3.2" type camera module consists of a lens, a feature-rich DSP and a high quality Sony CMOS sensor. The progressive scan CMOS sensor delivers video support with YCbCr video or JPEG still image output.
The MCB 1182 comes with the latest Sony "Exmor" CMOS Sensor technology offering improved sensitivity. This module will also be proposed with an option of a Wide Conversion lens to reach a HFOV of 80°, ideal for visual communication or security applications.
The MCB device is ideal for OEMs and integrators of equipment where high quality video or high resolution is required in a compact design.
Features
• 8.08 MP Still Image
• 720p / 30fps
• JPEG Output
• Wide Conversion Lens Option