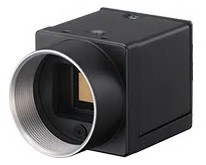 XCU-CG160C
*Now Available* - 1/2.9-type USB Global Shutter CMOS SXGA resolution colour camera
The XCU-CG160 (black & white) and XCU-CG160C (colour) combines the best of Sony technology in a convenient form factor which is optimised for use within both the Industrial Vision and non-manufacturing vision markets. The XCU-CG160C draws upon Sony's market leading Global Shutter CMOS sensor technology, combining the IMX273 1.6MP sensor with SXGA resolution with a rich heritage of complete camera technology, bringing the best combination of performance and quality from a brand you can trust.
The XCU-CG160C incorporates the latest Pregius GSCMOS sensor providing the best combination of resolution and frameframe tailored for use in production and inspection environments where USB3.0 Vision is the prefered architecture.
The XCU-CG160 provides a simple migration path from CCD to GSCMOS without necessarily having to upgrade or change architecture. The IMX273 shares comparable sensor and pixel size characteristics with the well regarded Sony ICX445, but offers huge technological improvements in sensitivity, dynamic range, noise reduction and frame rate capability.
The XCU-CG160C has a resolution of 1456 (H) x 1088 (V) (effective pixels) with a frame rate of over 100fps and supports USB3.0 Vision 1.0.1 interface.
Features
Key Features:
Sony IMX273 1.6MP
Over 100 fps
Compact size
USB3.0 Vision 1.0.1
Area Gain
Advanced Image Processing

Defect Pixel Correction
Shading Correction
Downloads
You may need to be logged in to have access to some documents.
Resources
Below are a number of tools and resources dedicated to support the promotion of Sony XCU cameras.