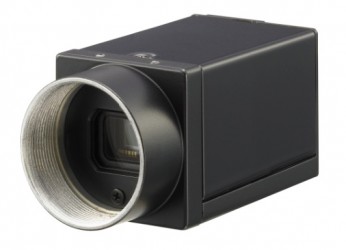 XCG-C30
New - Cubic GigE 1/3-type CCD Black & White Camera module
Sony is expanding its popular XCG GigE® Vision Series of interface
cameras with the introduction of a new range of cubic GigE compact cameras.
The XCG-C30 (black & white) combines the best of Sony technology in a convenient form factor which is optimised for use within the Industrial Vision market. The XCG-C30 draws upon Sony's market leading sensor technology combined with a rich heritage of complete camera technology, bringing the best combination of performance and quality from a brand you can trust.
The XCG-C30 has a resolution of 640 (H) x 480 (V) with a frame rate of up to 130 fps (non-PoE) and supports GigE Vision 2.0 / 1.2 due to Gigabit Ethernet with PoE capability.
Features
Key Features:
High frame rate
Compact size
GigE Vision 2.0/1.2
Gigabit Ethernet with PoE
6-pin connector (supports DC 12 V)
Shorter trigger latency
Trigger range control (noise reduction)
Sensitivity control
Temperature read out
New support functions of GigE Vision
Extended ID 64-bit (GigE Vision 2.0)
Increase the numbering of captured images
Chunk data
Metadata transfer
Event reporting
Transferring information on triggers and more
Flow control (Control the transferring data)
Accessories
Lens mount cap (1)
Operating Instructions (1)