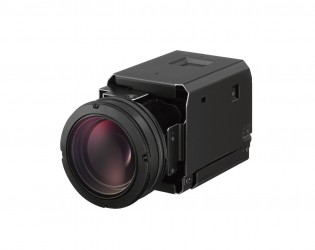 FCB-ES8230
New 4K High Quality 12x Colour Camera Block
The new FCB-ES8230 represents a new avenue of high quality and 'best in class' images in stunning 4K clarity thanks to the combination of Sony's 1-type Exmor R CMOS sensor, high quality lens and Sony unique ISP engine.
The FCB-ES8230 is the latest edition to our expanding range of 4K industrial cameras and compliments the recent launch of the FCB-ER8550 and FCB-ER8530 4K camera modules with a product primarily aimed at the broadcast / video industry due to special features such as a thin depth of field capability and - in a first for FCB technology - the incorporation of optical image stabilisation technology, to give rich, very high quality and stable images.
The FCB-ES8230 offers 4K resolution at 30fps together with an integrated 12x Optical Zoom lens but with super resolution zoom of up to 18x in 4K quality. Additional digital zoom of 12x is also included.
The FCB-ES8230 inherits a multitude of features from Sony's world-renowned FCB Series including VISCA command protocol, Auto-ICR and a wide variety of Exposure, White Balance and Focus control functions. These market leading features are suitable for a variety of demanding applications.
Features
Capture high quality, crisp, clear 4K @30fps images
The high-performance 1-type Exmor R CMOS image sensor achieves superb 4K (QFHD) picture quality. Using the latest Sony sensor technology combined with the best optical zoom lens, the FCB-ES8230 produces high quality images in excellent detail and clarity.
Fast, bright lens with rapid 12x optical zoom
The high quality lens offers a bright F2.8 maximum aperture and 12x optical zoom range. Fast zoom operation (from wide end to tele) is ideal for smooth, rapid transitions from wide area coverage to detailed close ups ensuring critical detail is not missed.
Get a steadier picture with optical image stabilisation
In a first for FCB technology and inherited from our world leading professional camcorder technology; the FCB-ES8230 comes with a built-in optical image stabilisation capability, countering the effects of blurred, shaky images caused by low-frequency vibration and movement.
Advanced 2D/3D Noise Reduction
Advanced noise reduction technology filters noise from the image for clearer results, especially in low light conditions. Noise reduction can be selected from six steps to suit a wide range of operating environments.
Clear vision round the clock with Day/Night
Benefit from optimized picture quality in changing light conditions – a frequent challenge in round-the-clock operations. In high sensitivity mode the camera can operate effectively in lighting
levels as low as 2lx (50IRE, ICR off, Iris Open, ACG Max (36db, High sensitivity off)) and 0.5 lx (50IRE, ICR off, ACG Max (36db, High sensitivity on)).
See more clearly with Visibility Enhancer and De-fog
Picture quality is enhanced dynamically and adaptively on a pixel-by-pixel basis while continuously adapting to the scene within the given dynamic range. There's also a de-fog feature that allows clearer viewing in foggy or misty scenes.
Auto ICR (Auto IR-cut Filter Removal)
In low light conditions the camera automatically switches from day to night mode, removing the IR-cut filter to boost sensitivity for clear pictures in near-darkness.
Wide range of features for versatile operation
Versatile operation is ensured by a wide range of functions and adjustments, including: White Balance modes; Picture effects (E-Flip, Black & White, Mirror Image, Colour Enhancement, Gamma);
Privacy Zone Masking; Picture freeze; Shutter Priority; Iris Priority; Slow AE response etc.