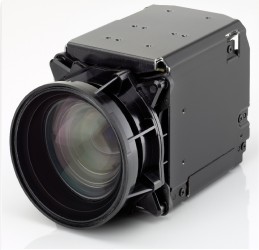 FCB-ER8300
4K camera block
We've taken the world leading 4K technology from Sony consumer and professional products and created the worlds first 4K autofocus zoom camera block for the industrial market.
The FCB-ER8300 delivers true 4K resolution at 30fps, and includes 20x zoom capability with advanced zoom technology from Sony.
Utilising Sony Sensor technology and powered by a unique Sony image processor, the FCB-ER8300 can focus on the smallest detail whilst 70 degree HFOV allows for increased situational awareness over large areas. Perfect for security, surveillance and other industrial applications. Compact form factor and low power consumption allow for easy integration into Pan, Tilt and Zoom camera systems.
Features
4K Resolution @ 30fps
True 4K resolution (3840 x 2160 Pixels) at 30 frames per second. FCB-ER8300 has the capability to give you 4 times the resolution of a Full HD camera solution.
Wide HFOV
70.7 degree Horizontal Field Of View at wide end. Enhanced situational awareness and area of coverage is possible with FCB-ER8300.
20x Zoom with Super Resolution Zoom
4K resolution is maintained all the way to 20x zoom. Once optical zoom range is reached Super Resolution Zoom is implemented to ensure resolution is maintained at 4K up to 20x zoom. Unlike digital zoom this does not reduce the number of pixels in the image, therefore degrading the resolution.
Additional features:
Advanced Noise Reduction
Lower power consumption (3.7w with zoom/focus active)
Small form factor (60 x 64 x 105mm, weight = 385g)
VISCA command protocol
HDMI output